Track and report all your waste with one click
Innovative digital management software that brings all your Waste Management productivity and operations into a single, easy to manage solution.
Book Demo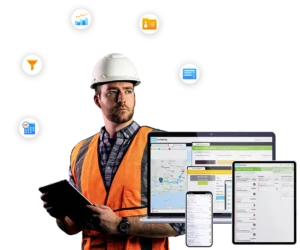 Trusted by well-known brands
All-In-One Waste Management Software that covers everything from sales to invoicing.
Collabit have developed the most advanced Waste Management Software platform on the market by working with industry companies and ensuring all the required processes are built into the platform.
Book Demo
Feature rich Waste Management Solution
Collabit is an all-in-one, industry-specific software solution that offers essential tools and modules to monitor and develop your business. What's more, with our advanced system, we can customise functionality to match your unique requirements perfectly. With Collabit, you'll have the power to take your business to the next level.
Manage your resources
Resource Planning
Use Collabit to plan all the jobs that are due either from schedules created from closed sales opportunities or from remedial works that have been discovered within jobs.
Plan jobs in a calendar view or a map planner view;
Filter jobs to plan based on tags, employee skills, jobs types etc;
Uses Google Drivetime and time taken to complete works to plan the perfect work day for an employee;
Report on jobs that are overdue, planned, completed and invoiced.
Learn more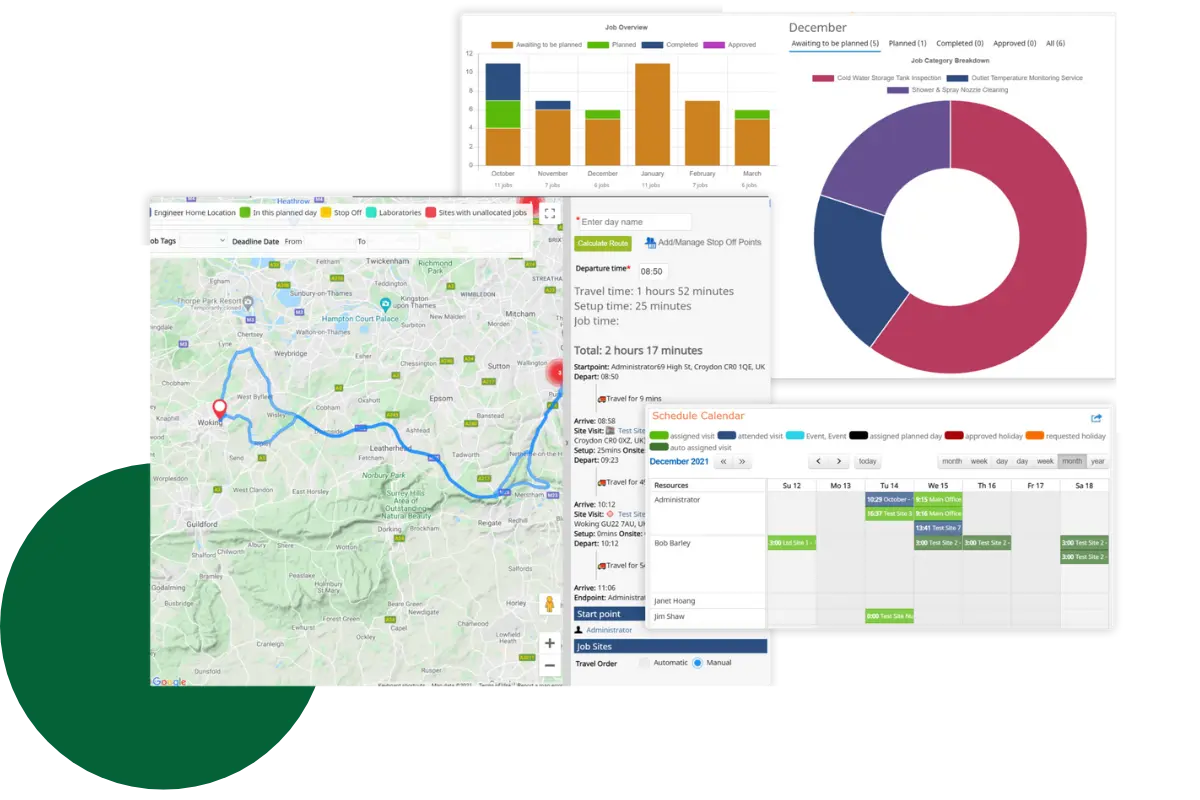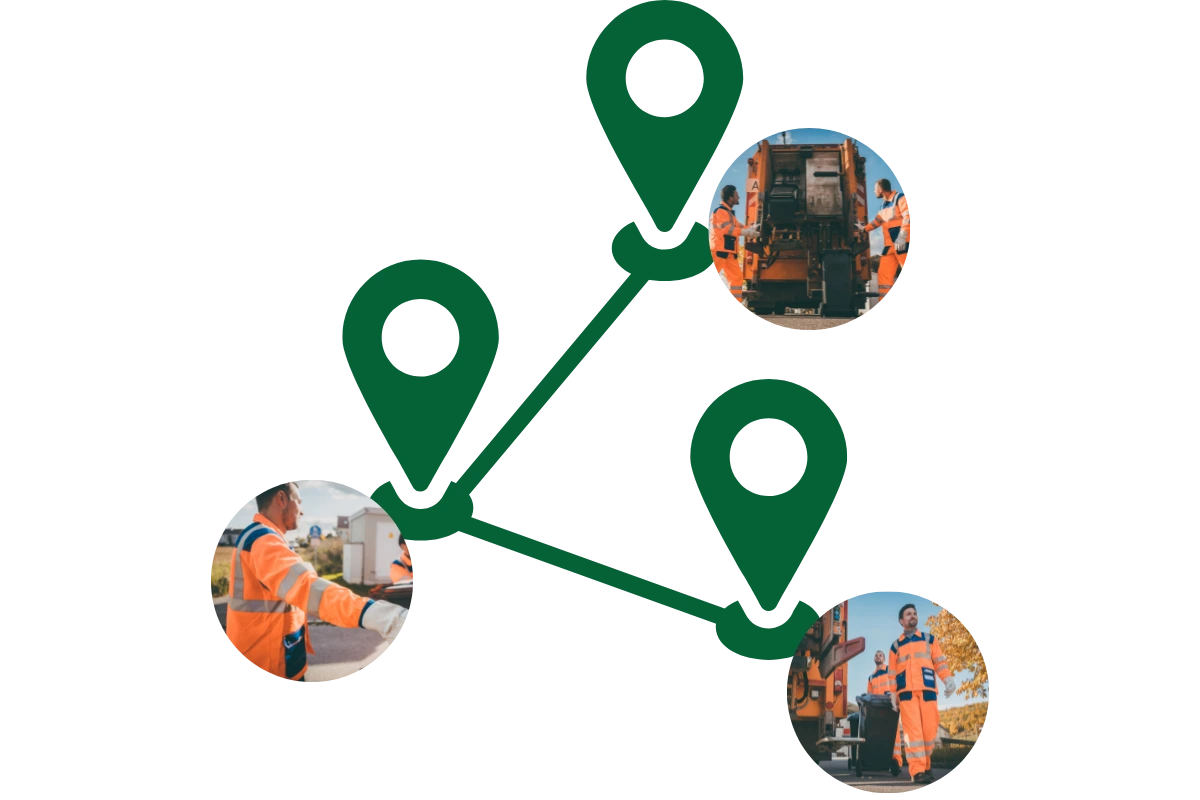 Waste Management Software You're Looking For
Waste Tracking
Track the waste collected from jobs using the special tracking system developed by Collabit.
Simple and easy to use job forms, with auto population, selection assistant, waste calculations and helpful how to videos;
Automatically gives all waste collected via the mobile app a unique code and adds it to the system to be tracked;
Allows users to photograph/QR code tag waste for easy completion of jobs onsite;
Keeps a history of all waste that was collected on jobs and the disposal method with evidence to support audits.
Invoice Management Made Easy
Smart Invoicing
It's never been easier to manage your invoices! Collabit's joined up system connects sales to operations and then to invoicing. Making it simple to send the correct invoices quickly.
Save admin time with the Collabit's invoice generator;
All jobs scheduled in contracts can have separate invoice rules applied because all customers are different. Send invoices based on a fixed amount with a general line-item description or after individual jobs are completed with detailed invoicing line items;
Matches all completed jobs to invoices including any one-off jobs or remedials so you can see clearly which completed jobs have not been invoiced yet;
Links to Xero, Sage, QuickBooks and other open-source API accounting platforms.
Learn more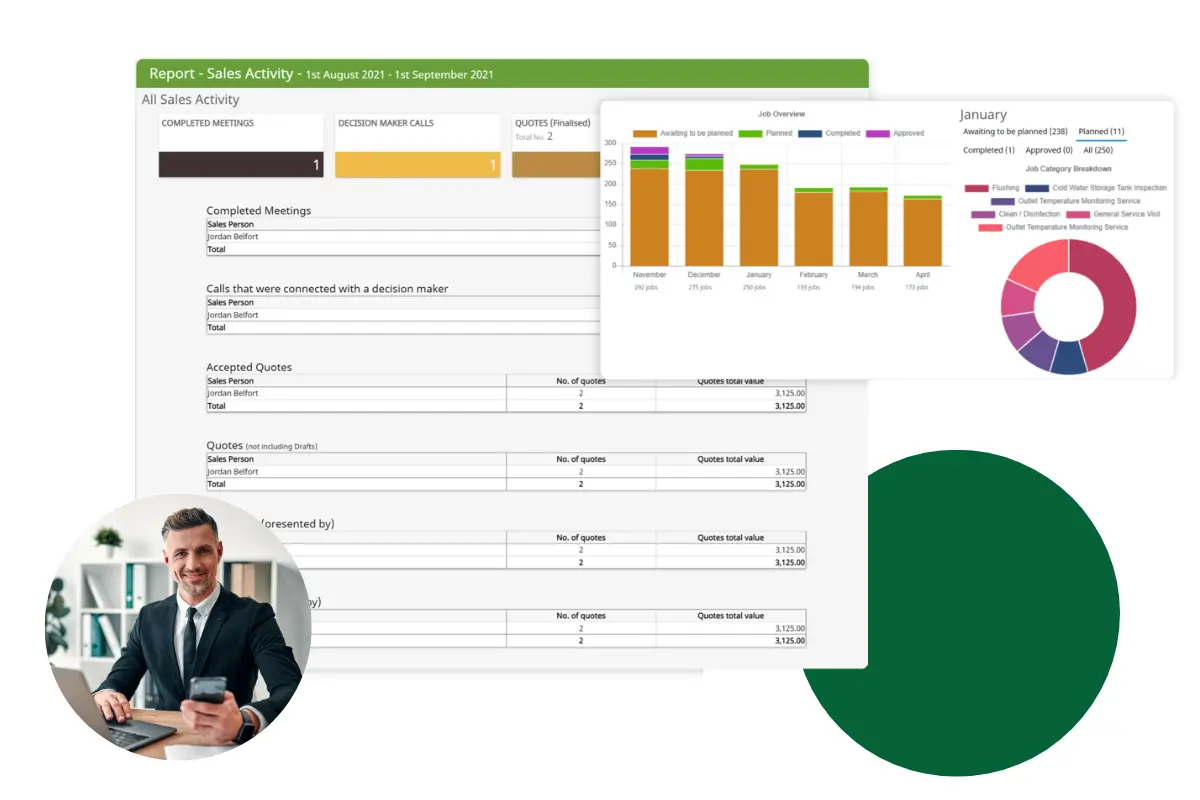 GAIN TOTAL VISIBILITY OF YOUR ENTIRE ORGANISATION
Dashboard and Reporting
Keep all your data in one system with Collabit! Giving you the ability to find anything you need with no fuss. View the health of your business anytime, anywhere.
Ability to report on all waste transfer notes a hazardous waste consignments note, with the ability to download CSV files for reporting to government agencies;
Dashboard view for all workflow stages giving waste companies the ability to audit in real time;
Capability to report into open-source API platforms to further reduce administration time;
Build customisable reports and dashboards, reports can be scheduled to send automatically.
Learn more
That's only the glimpse of what we are capable off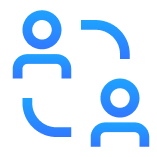 Customer portal
Your customers will have their own log in's to Collabit where they can access all the information you wish to share with them. This reduces the number of emails and calls while giving better service.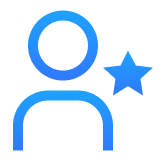 Sales CRM
Manage your leads, pipeline and tasks easily while reducing sales admin time. It gives salespeople the tools to achieve more in less time.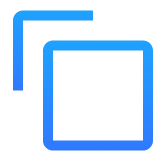 Customer Help Desk
Collabit has a complete helpdesk system to make high levels of customer service easy. Because this is integrated with the rest of the business, you can automatically generate support tickets from jobs and see customer issues within the sales process.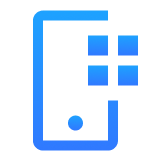 Mobile App
Once a job is created on the system and planned then, the mobile workforce can locate the job and complete all works from the Collabit App (Android and Apple).
Resources
Latest Updates & Articles
FAQ
What changes are happening in the waste management sector?

The UK government has committed to moving towards a more circular economy. Currently over 200 million tonnes of wastes are produced in the UK each year but there is currently no single or comprehensive way of tracking it.

It's proposed the UK Waste Sector will have to report additional information depending on the type of waste and will be required to digitally track waste and report all waste transactions to a central database

When is waste management going digital?

The government's proposed changes are expected to place within 12 months from April 2023.

What is waste management Software?

The software which tracks all waste movements and transfers to a waste tracking service in real-time, which means information must be entered into the service at the point something is happening to the waste.

Why is Collabit the best solution to meet your needs?

Collabit's provides an innovative digital management solution that brings all your Waste Management productivity and operations into a single, easy-to-manage solution.

Our unique technology adheres to current and proposed changes and allows waste companies to track audits, report on all service visits and manage all their business functions from one platform.

Our users are enabled with powerful workflow modules and business insight tools; Our cloud-based solution integrates into 3rd party systems, and our platform is customisable to your unique business challenges.

How does waste management software work?

When it comes to waste, finding efficient strategies to dispose of waste becomes paramount. Luckily, waste management software steps up to the plate and offers an automated way to track waste.

In essence, waste management software has the goal of automated disposing of, reducing, recycling, and containing waste accumulation. Traditional waste disposal methods mainly include traditional approaches such as composting, recycling, turning waste into energy, incineration, landfills, waste minimization, and bioremediation.

Waste management systems are developed for the purpose of collecting and handling waste. Waste management is intended to exploit data and technology to deliver a more eco-friendly, time-efficient, and cost-effective manner of waste management.

Waste management runs on IoT (Internet of Things) technology which creates options for optimizing the allocation of resources, minimizing running costs, and ultimately, boosting the sustainability of waste services. Some of the key features of waste management software include Resource Planning, Data & Report, Non-Conformance Management, Onsite Works and Reports, and Form Designer.

A well-rounded waste management software provides businesses with insight into efficient data collection, tracking, monitoring, and reporting. This type of software also delivers transparency in providing accurate information on waste transfers, movements, and activities - all in one place. This way, businesses using waste management software can make quick decisions when needed.

What are some waste management systems?

The basics of waste management systems include the processes of collection, transportation, and disposal of garbage, sewage, and further waste products. Waste management is best described as a process designated to treat solid waste. The process encompasses a variety of solutions for recycling items that aren't usually classified as trash.

A waste management system is a valuable asset, given that the UK alone produces 200 million tons of waste - each year. By adopting a waste management system, product waste can be safely and efficiently disposed of.

Waste management systems, also known as waste disposal, include a variety of activities and metrics for managing waste throughout the whole cycle - from use to disposal. A waste management system tends to the collection, transport, treatment, and disposal of waste. Such systems will also monitor and regulate the processes of waste management, including waste containing POPs (Persistent Organic Pollutants), which is subsequently tracked.

Some of the key waste management systems in existence include recycling, reduction and reuse, composting, fermentation, incineration, landfills, and land application. Regardless of the type, waste management systems aim to deliver suitable strategies to businesses or organizations in need of proper waste accumulation, sorting, organization - and elimination.
In less than 45 seconds I will tell you why you should book a consultation with us.
Tailored software will get you to the next level
of business experience
Chris Barnes, Director of Collabit.