The UK's Best CAFM Software
With Collabit CAFM Software, you'll have a single, easy-to-use software platform that handles all your maintenance and compliance needs.
Book consultation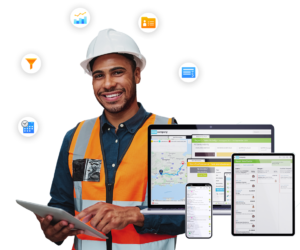 TAILORED SOFTWARE FOR YOUR INDUSTRY
A powerful asset management solution that is designed to make light work of the planning and execution of maintenance and compliance tasks.
Collabit CAFM (Computer Aided Facility Management) keeps a full asset register for each of your sites. Never forget a task and keep a record of all tasks completed as well as a history of results recorded down to the individual asset level. The solution integrates with SFG20 and OEM schedules so you know you are covering everything you need to do for every asset type.
Trusted by well-known brands
CUTTING MAINTENANCE TIME
Asset and location management
Collabit CAFM software creates an asset register for every single site you carry out jobs on. This shows all the locations (floors, rooms etc) on a site as well as what assets are located in them.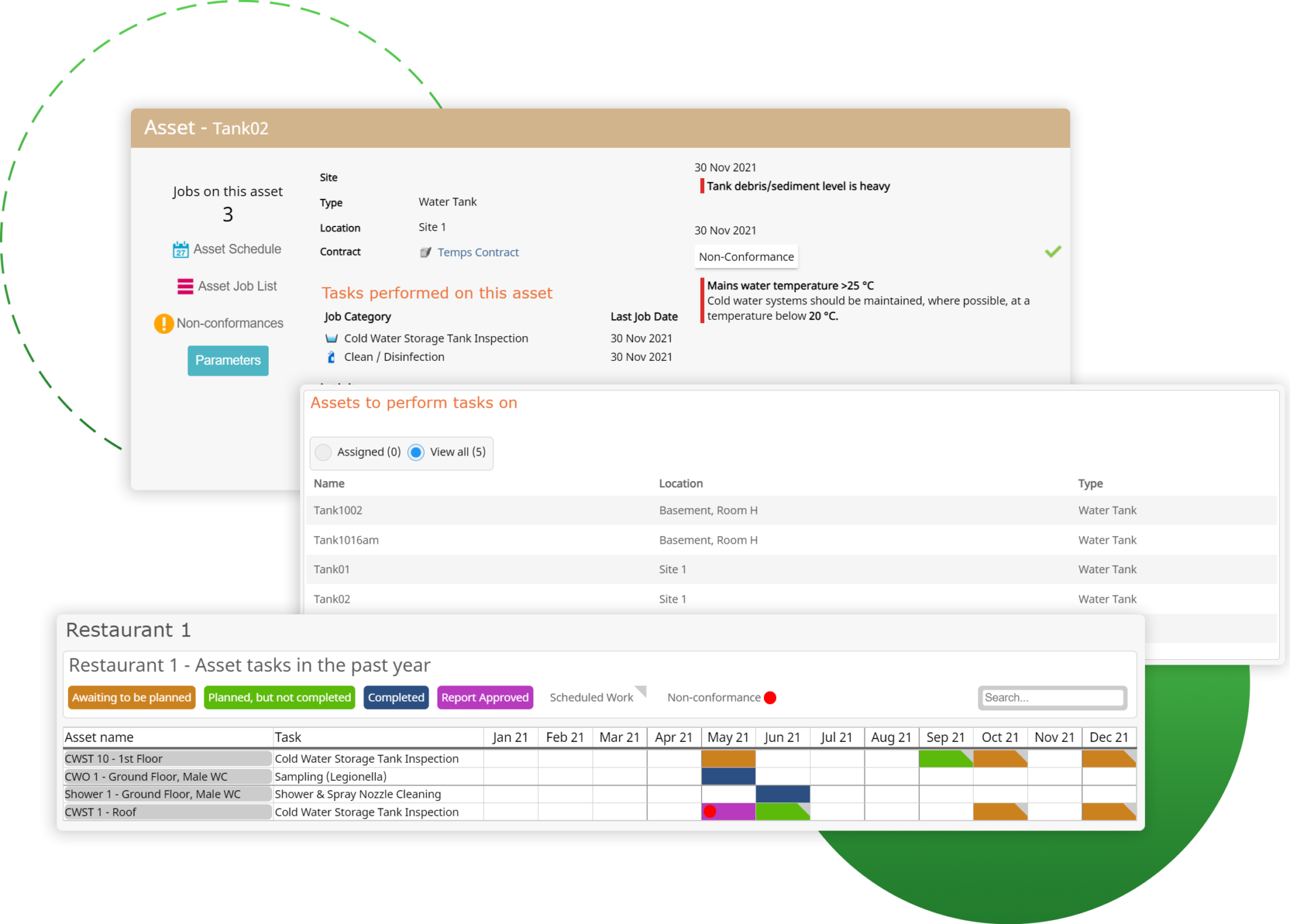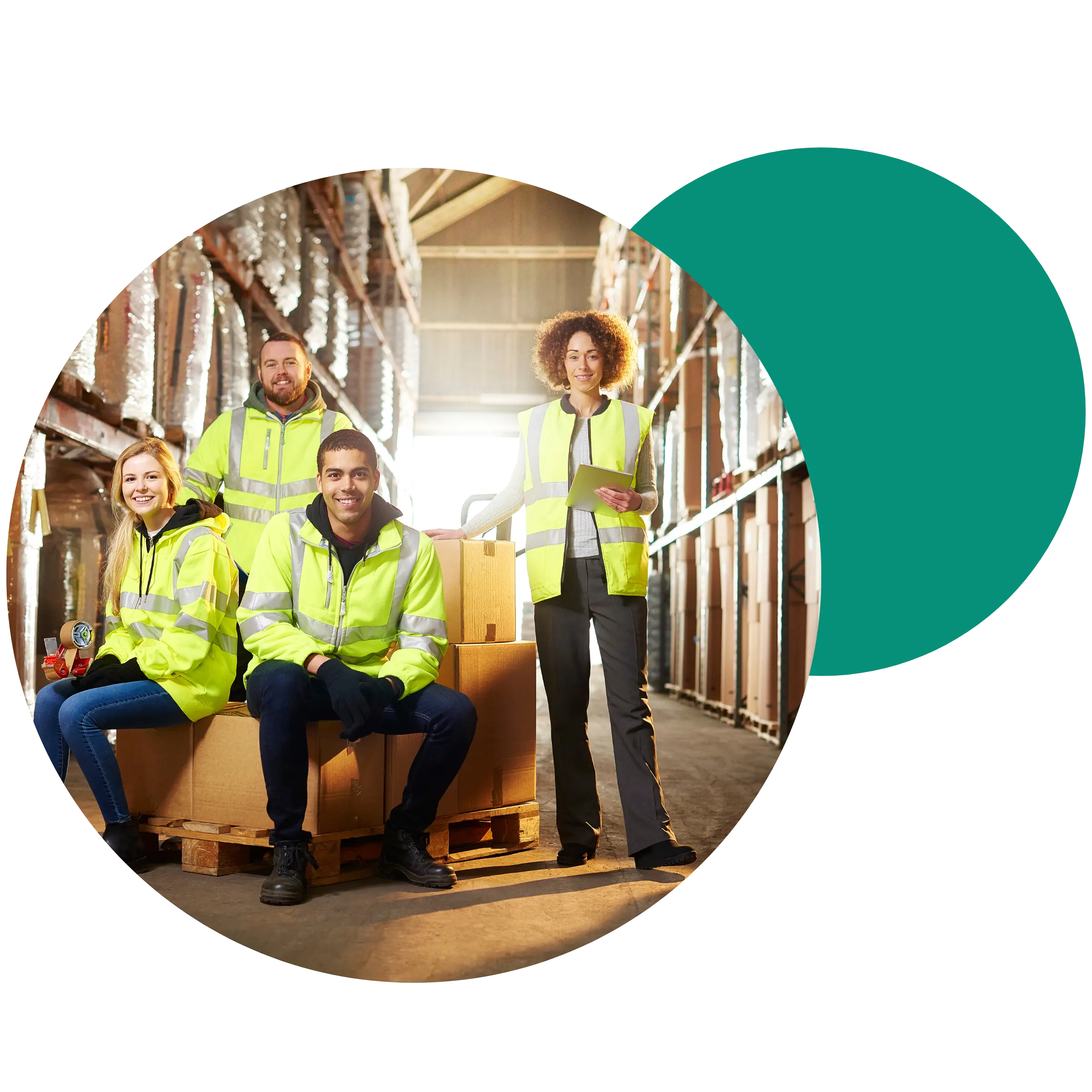 Maintenance and Compliance
Choose what frequency you need
Use the job categories that have been created (or use the collabit library of forms) to set schedules or one off jobs on the assets within each site. The CAFM software will allow you to choose what frequency you need to carry out jobs upon the assets. After a job is completed on a site, the system will store all of the information taken against each asset. It will also produce job sheets to detail what happened on each job down to whatever level of detail is required.
Job Planning
Easy planning of jobs and totally mobile
Once you have a set of schedules for a site, jobs can be planned onto a mobile device to be completed by onsite users. You can auto assign these jobs straight to an onsite workers mobile device or plan the jobs to each engineer on the calendar. There are dashboards to show you the total number of jobs that are due to be planned each month and how many have been unplanned, planned or completed.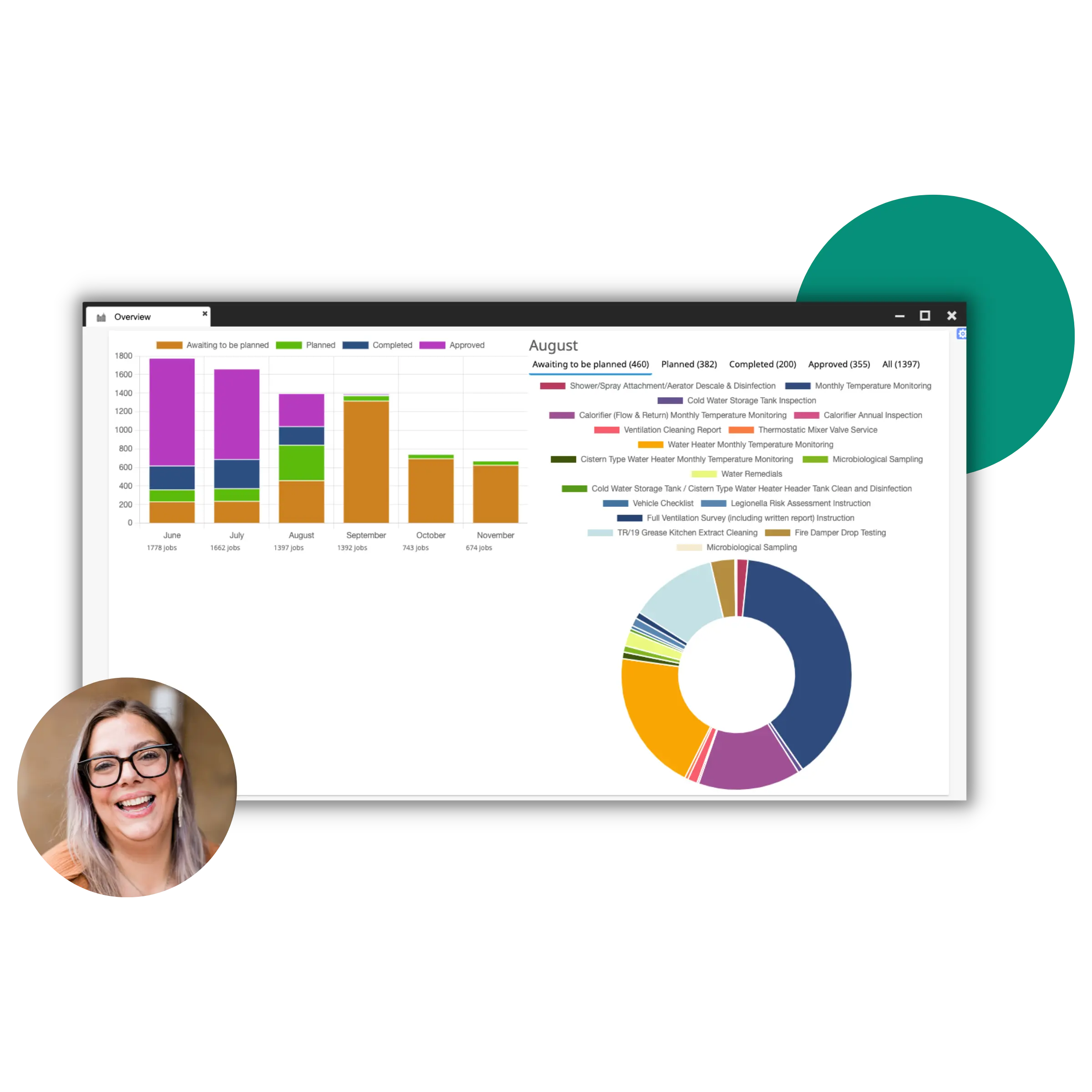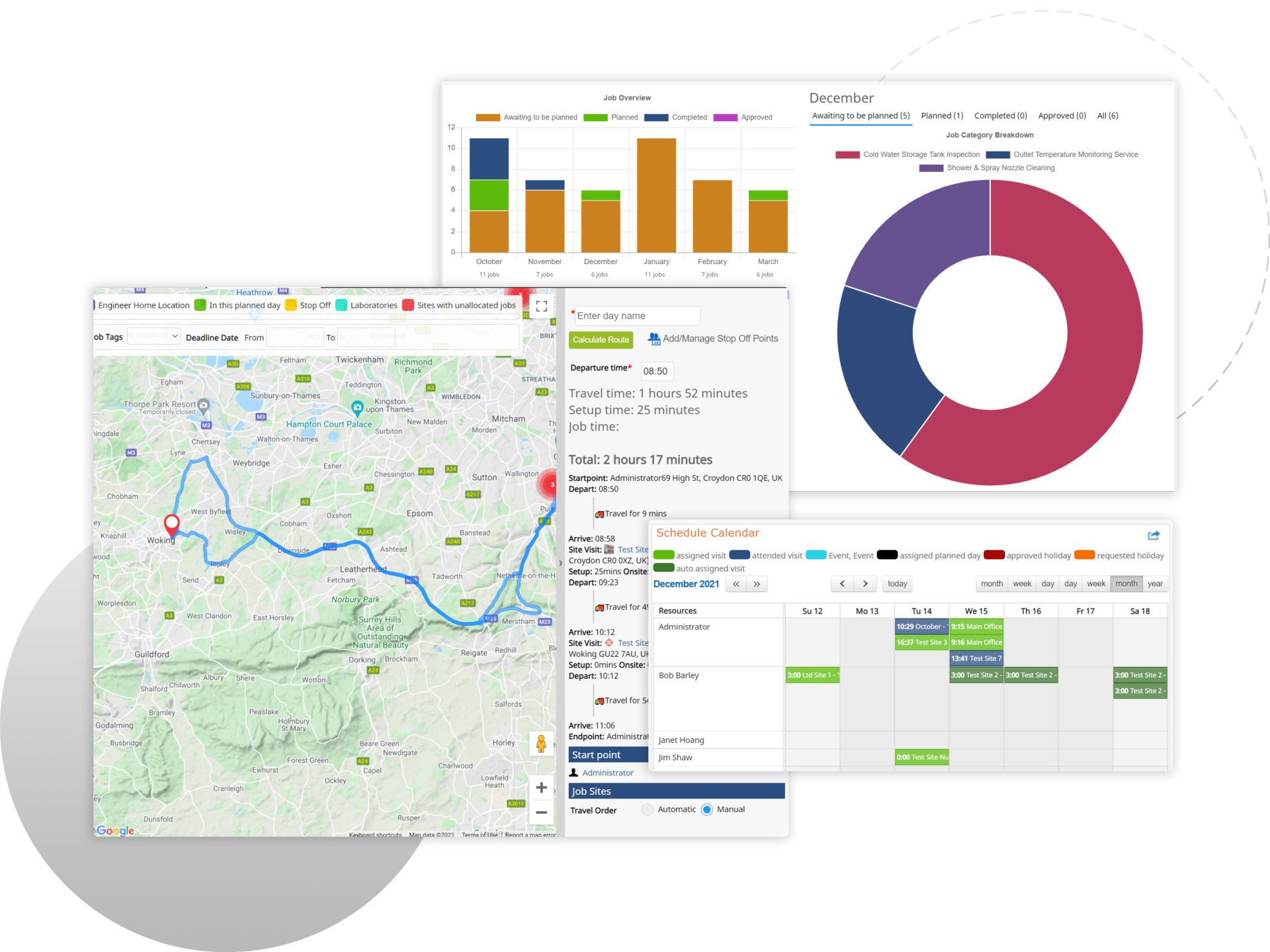 Plan your work and work your plan
Resource Planning
Use Collabit Computerized Maintenance Management System CAFM to plan all the jobs due either from schedules created from closed sales opportunities or remedial works discovered within jobs.
Plan jobs in a calendar view or a map planner view;
Filter jobs to plan based on tags, engineers skills, jobs types etc;
Automatically groups all jobs that are due over the planning period into site locations to be completed in one visit;
Uses Google Drivetime and time taken to complete works to plan the perfect work day for an engineer;
Report on jobs that are overdue, planned, completed and invoiced.
Tailored solution
Manage any number of sites, properties and assets.
Collabit's software can manage any number of sites, properties and assets. Each location has a screen to manage any information needed. Including a complete register of locations at that site (buildings, floors, rooms and areas) and Assets.
The asset register allows you to store any type of asset you wish. This could be anything from a significant piece of equipment down to a light bulb.
The cafm software has a powerful form designer that gives our clients the ability to create jobs in whatever design they wish. This will give a guide of what work needs to be carried out and what information is then recorded on the assets.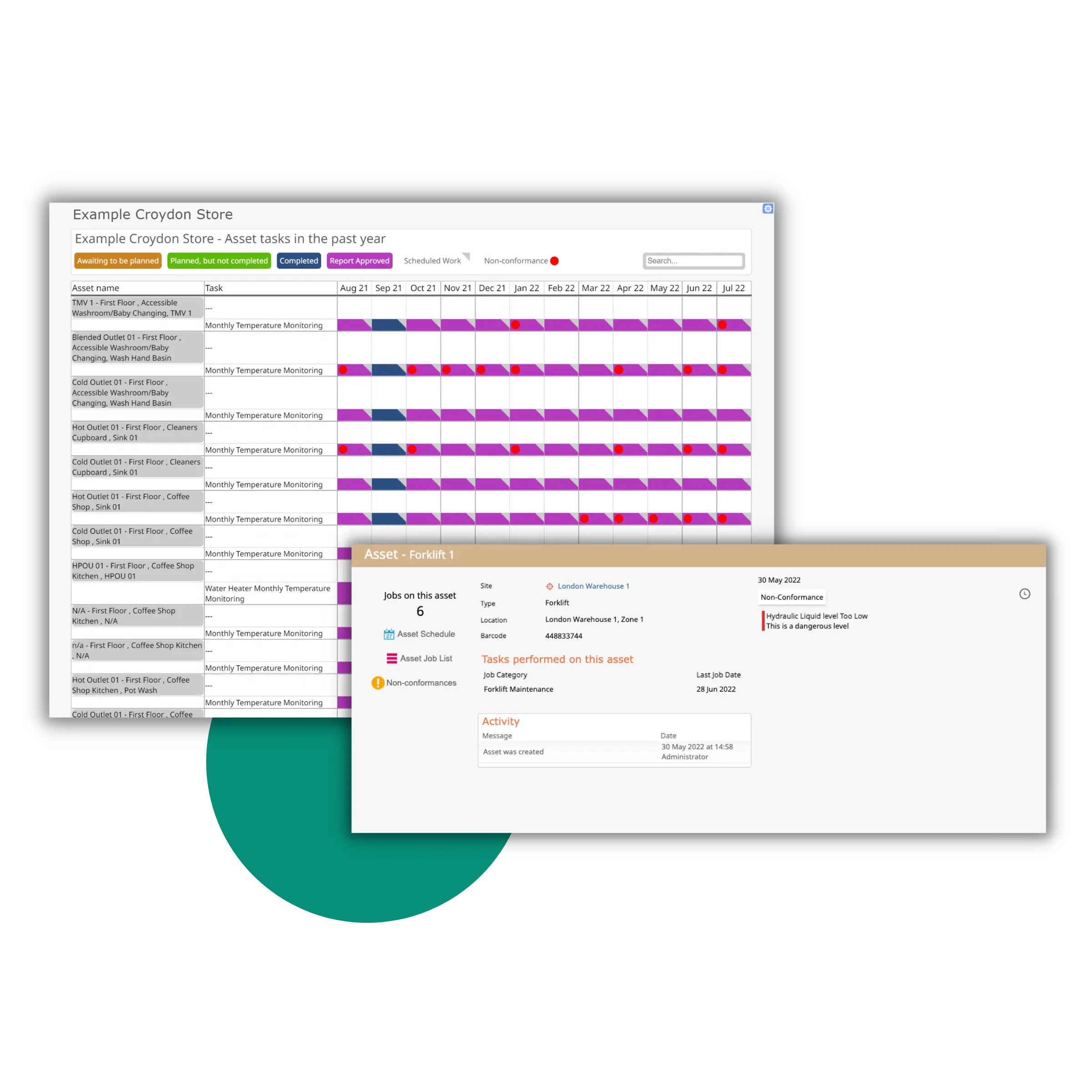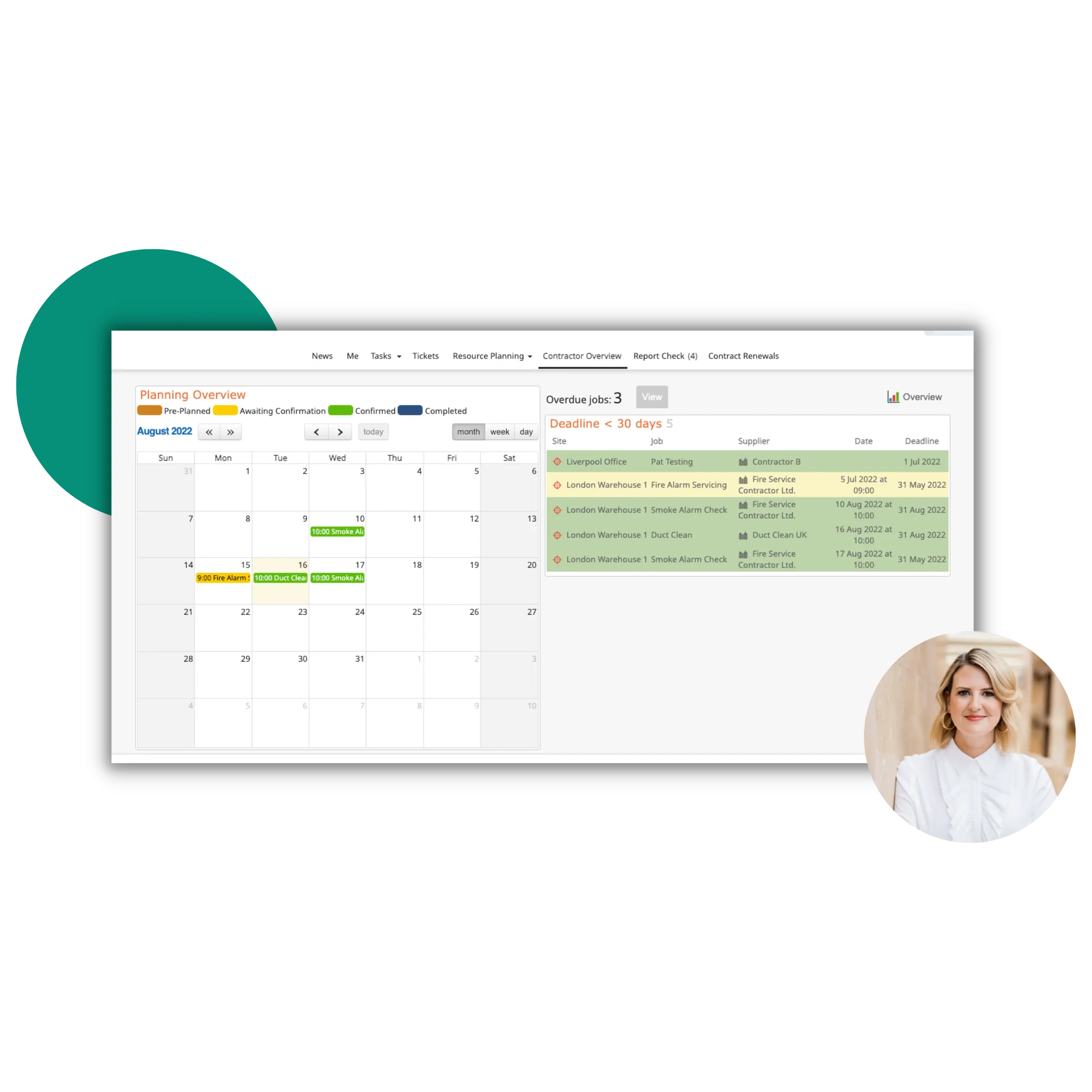 Contractor Dashboard and Portal
Set up agreements and work orders for the contractors
Collabit cloud-based cafm software Platform has a complete contractor management system within it. This will allow you to set up agreements and work orders for the contractors. Set the tasks and assets that you are assigning to the contractor. The system will then track these contractor jobs with a due and expiry date. You can use a dashboard to show when these jobs are ready to be planned. Suggest dates/times to the contractors, who then agree or suggest other times. Once agreed you can see all jobs on a calendar. The contractors are given a portal to log in online and manage the jobs they have been assigned. They can use the portal to say they have completed the jobs and load in their own worksheets. You can then confirm they have covered all assets that were assigned to that job and make a new job if a revisit is required. Can track if a contractor job has been fully completed before their invoices are paid.
Staff/Tenants logging tickets
Create issue tickets
Collabit cloud-based CAFM software has a ticketing system that allows your staff or partners to log in and create issue tickets. These tickets can then be managed in a dashboard allowing your team to communicate with the ticket creator and generate jobs from them. This is useful for people to report issues with assets and for you to understand more about these issues before you send somebody to fix the issues.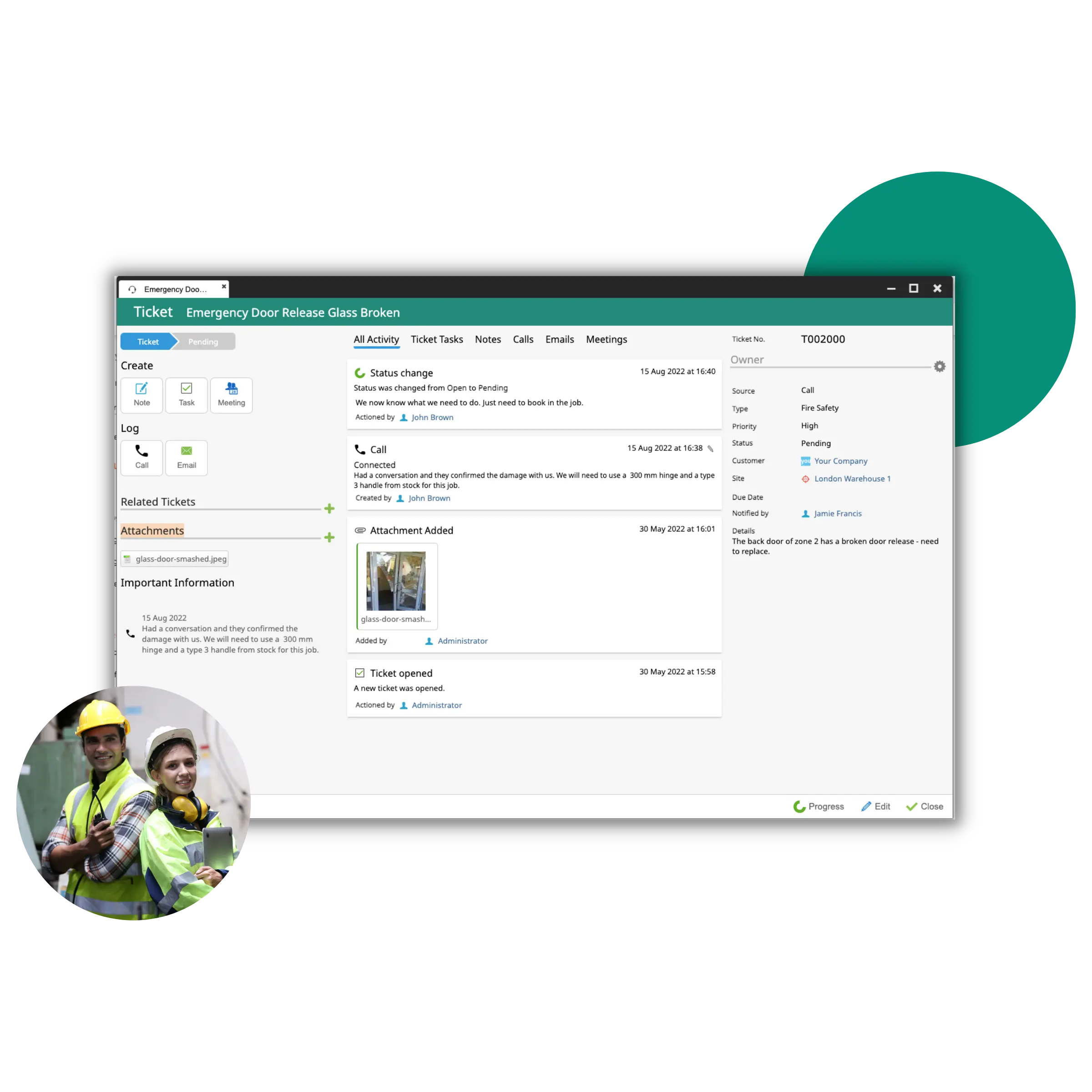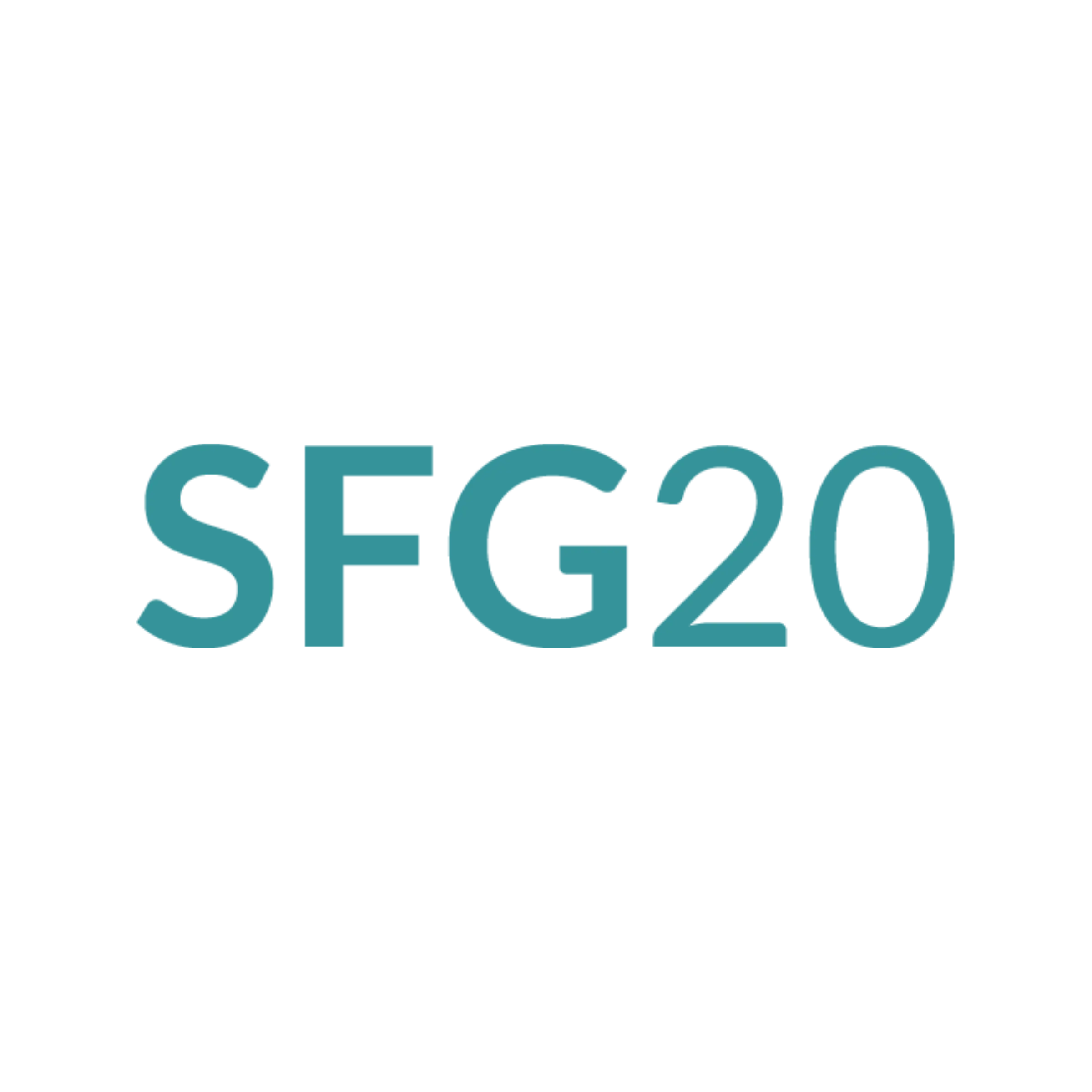 Keep your assets in optimal condition for longer lifespan
SFG20 and OEM Guidelines
Collabit CAFM software solutions can create job sheets from rule sets such as SFG20 or recommended manufacturer guidelines. This information is used to set the questions that are answered on jobs, guide times and frequency of schedules. If a piece of equipment is still under warranty the system will track this expiry date and can also be used to prove that issues lie in the hands of the manufacturer.
Complete the work of any job, anywhere at any time
Onsite works and reports
Once a job is created on the system and planned then the mobile workforce can locate the job and complete all works from the Collabit app (available on Android and Apple stores).
Mobile app works offline. No need to worry about working in basements or being in remote areas with no signal;
Reports are generated automatically based on the information collected in the field;
Other data can be collected too - you can design the forms however you wish and choose which sections are for internal use or which ones go on the customer report;
RAMS and H&S questions built into the system. Once you design a form you can also choose the RAMS document and H&S questions that have to be completed before the job can start;
Produces professional reports automatically - even complex ones like Risk assessments. These reports can still be edited after the job is completed before they are emailed to the customer from the system and added to the customer portal.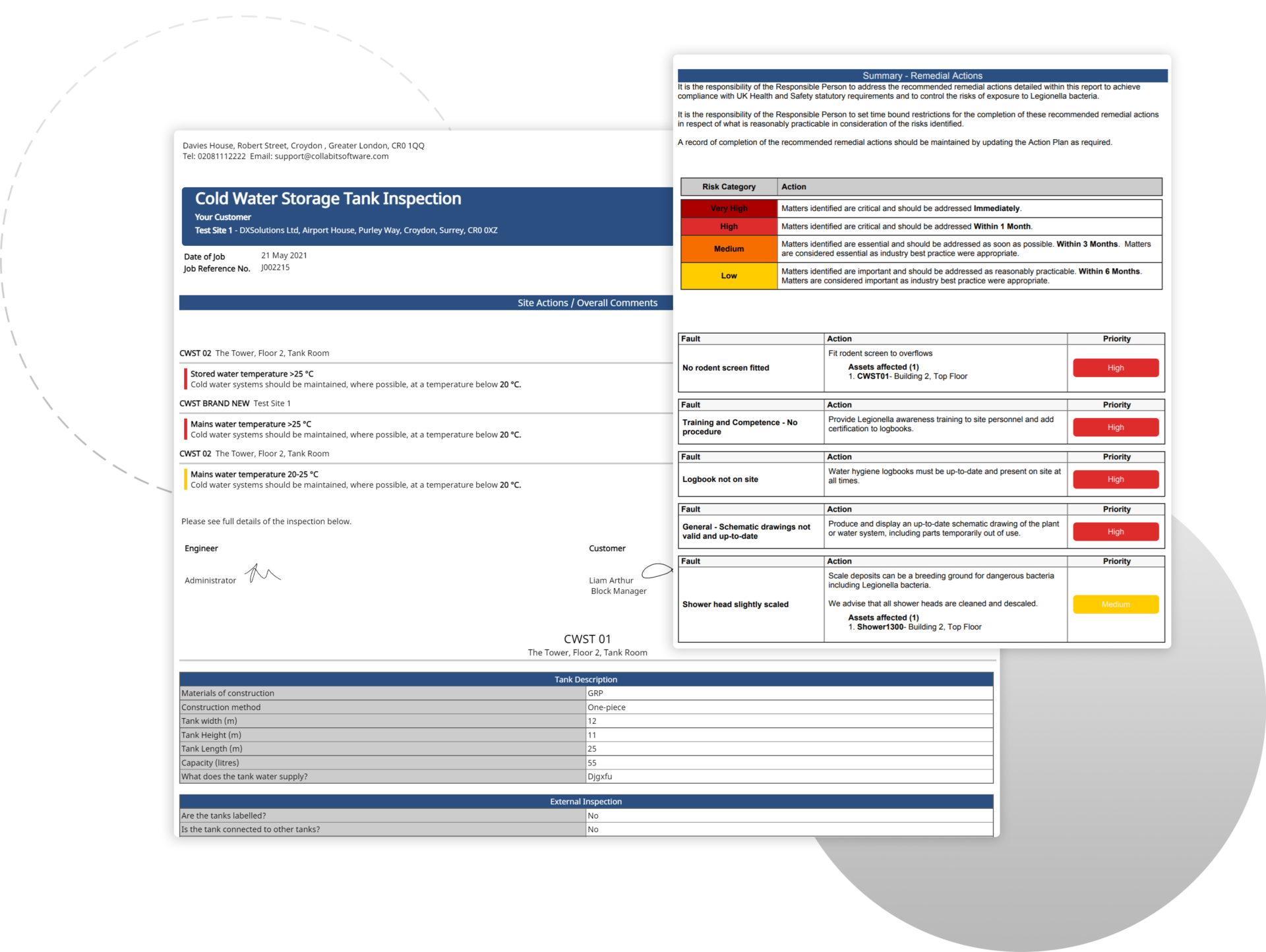 More Features In This Solution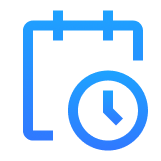 Resource Planning
Use Collabit emaint CAFM software to plan all the jobs that are due either from schedules created from closed sales opportunities or from remedial works that have been discovered within jobs.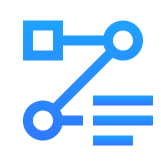 Contract tracking and renewals
Contracts are a handy place that stores all of your agreements with customers so you can find all the information you need quickly and easily, plus they don't need any data entry or admin time spent on them.
Onsite works and reports
Once a job is created on the system and planned then the mobile workforce can locate the job and complete all works from the Collabit app (available on Android and Apple stores).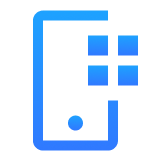 Asset and location management
Collabit creates an asset register for every single site you carry out jobs on. This shows all the locations (floors, rooms etc) on a site as well as what assets are located in them.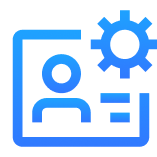 Manage customer queries and issues
Collabit includes a full helpdesk system, making it easy to provide high levels of customer service.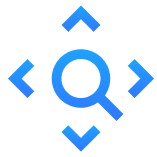 Finding the information you need when you need it
Keeping all of your company data in one system gives you huge benefits as well as being the 'go-to' place to find anything you need with no fuss.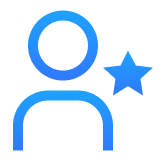 Employee Skills, training and Certification tracking
Manage your employee's skills and certifications as well as any training requirements with the employee dashboard.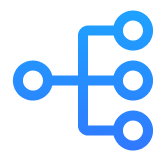 Non-Conformance Management
Automatically ensure that all compliance issues have been logged and all customers are informed of what is recommended to resolve them.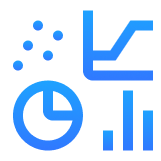 Dashboards and Management Reports
Managing your entire business has never been easier than when using the dashboards and reports in Collabit.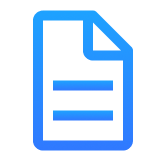 Form Designer
A powerful form designer is built into the platform that can be used after minimal training that can be used to make job forms with endless possibilities.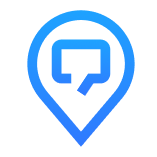 Equipment tracking
Store and manage all of your company-wide inventory with Collabit Inventory manager.
FAQ
What Are the Benefits of Using a CAFM System?

Manual work has long been present in the working environments of facility managers and business owners of companies that rely on data to function. Such actions result in exaggerated paperwork, complaints, working losses, and tribulation in calculating operational costs. Moreover, companies still using manual work instead of computer-assisted operations are faced with critical information loss, equipment malfunctioning, and inefficient asset and space management. However, all of the hardships can be halted by simply replacing manual work with technology, i.e., implementing a CAFM system. Other than easing appraisals, maintenance, and tenant relations, CAFM software will also manage sub-contractors and monitor compliance. What's more, a well-rounded CAFM software can be your one and only asset for storing management-related data, facility blueprints, operational logs, and more.

What is CAFM software used for?

As a maintenance tool, CAFM helps businesses automate their maintenance duties. Moreover, such software can also enhance a business's space-management strategies and improve the facilities' security measures and outcomes. Furthermore, when a business uses CAFM, equipment like HVAC systems can be easily and securely managed. The many features of CAFM software help managers and business owners establish a fully functioning and result-delivering workforce, performing its duties in a safe working surrounding.

What Makes CAFM Software Essential for Businesses?

Businesses that operate out of particular sites, or multiple locations, need to ensure an effective manner to convey business operations. The aspect of maintenance is one of the main concerns that facility managers face, especially if the business is comprised of numerous occupants and different types of equipment. Presuming a logistics company is having a hard time keeping track of vehicles and monitoring the condition of its business assets, staying afloat can be hard to achieve. From tending to employees' working needs to ensuring a safe environment, facility managers must find a way to maintain a positive track record and keep business matters up and running. Thankfully, facility managers can take a breather knowing there's a type of software that can help them keep things in check with little effort put in. Computer-Aided Facility Management, CAFM for short, is the ultimate facility management solution that helps facility managers know exactly what action to take and when to act.

Why Should Facility Managers Use CAFM?

A well-rounded CAFM system delivers proper tools and offers insight for managers to be able to monitor and utilise preventive maintenance measures. Moreover, CAFM allows facility managers to identify the scope of the cost for maintenance, as well as reach an educated decision that will be both time-efficient and cost-effective. What can CAFM deliver to businesses? Here are the major perks of the software: Centralise workload Prioritise tasks Convey planned preventive management Cut costs Automate maintenance tasks By using CAFM, facility managers will have the upper hand in the case of potential equipment breakdown and prevent the company from suffering major equipment losses.

Why Should Facility Managers Rely on CAFM?

Every facility manager looking to maximise the available assets and utilise the workforce most efficiently can make great use of employing CAFM software. Furthermore, a CAFM solution will allow facility managers to gather better insight into the condition of the assets, prioritise urgent tasks, and automate maintenance tasks daily, weekly, or monthly. By implementing CAFM software, facility managers will have a better outlook on the overall performance of physical and non-physical assets while making the best-educated decision to favour the company's business goal.

What Can CAFM Software Do for Your Business?

If you use CAFM software, you can analyse, track, and manage every facility operation data from a single place. Anything from the safety of the employees and basic maintenance to space management and the facility's blueprints can be accessed easily. One of the major upsides of CAFM software is that it allows for task automation. In other words, you won't be required to keep up with the changes and updates of the machinery and maintenance tasks by hand – the system will do it on its own. Let's go over the most substantial advantages of CAFM software for your business. Monitoring and managing assets as they change locations; Simplifying work orders, like outsourcing repairs; Minimising equipment downtime using PPM (Planned Preventive Maintenance); Securing the work environment; Safeguarding the safety, health, and welfare of the occupants in the facility; Compatible for use with CAD and BIM modelling systems; Upgrading the management of the workplace via space and allocation management; Memorising information and blueprints of the facility; Delivering information about the particularities of the use of working space.

What to Look for in CAFM Software?

If you're considering optimising your working capabilities via CAFM software, there are a few aspects to keep in mind. First and foremost, outline your company's business plan and see which area of business can be optimised. From keeping your business location secure to maintaining the parking area and the surrounding landscapes in tip-top shape, there are quite a few angles to cover when running a business. Moreover, you also need to make sure catering is available for your staff and equipment allocation is properly monitored.

Why Choose CAFM Software for Your Business?

CAFM software can be the right business move for you – from keeping all your work orders in one place to empowering facility managers to deliver executive orders and ensure possible mishaps are prevented promptly. Minimise the downtime of your business assets and ensure your workflow is uninterrupted by simply choosing the best CAFM software in the UK – Collabit. See your business thrive with less effort than usual by using this complete CAFM software that works on the most crucial management part of CAFM!

Can Implementing a CAFM Solution Benefit Your Business?

From making your facility management substantially easier to preventing equipment breakdown and minimising gear downtime, a well-rounded CAFM software can benefit your business to stay afloat and ensure smooth operation. Investing in a CAFM system will lessen the burden of keeping multi-site management operations in check and ensure your business operations run smoothly anywhere in the world. The best thing? All information can be accessed on a single platform.
Resources
What is CAFM software? CMMS OR EAM? For more please check out our video and article sections.
Are you ready to improve your company's workflow?
Tailored software will get you to the next level
of business experience
Chris Barnes, Director of Collabit.