CRM Sales Management System
CRM Sales Management System
Manage your leads, pipeline and tasks with ease while reducing sales admin time. Gives salespeople the tools to achieve more in less time.
Book Demo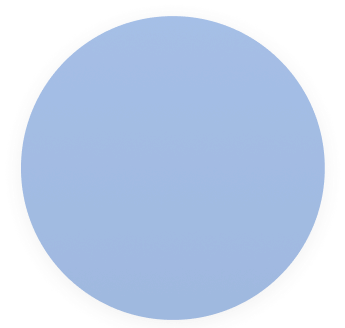 Capture, Convert, Close
Capture Leads
Leads can be captured in the system from a variety of methods and lead sources and campaigns can be tagged against them.
This allows you to work on leads from similar sources at the same time and when sales are made the value can be accredited to a certain sales or marketing activity allowing you to work out ROI on marketing spend.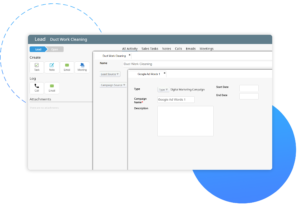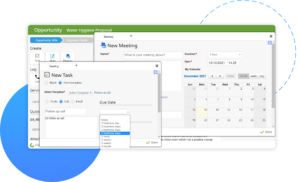 Your daily planner for calls, email, and meetings
Leads & Opportunities
All potential deals within the system have a carefully designed layout that allows you to see as much important information as possible in an instant. The timeline of calls, emails, meetings etc runs down the middle of the window and the information that is contained around it allows a user to find out company and contact details as well as how qualified this opportunity is and any other information that is deemed relevant.
Any open support tickets from the customer care section that involves the same company as the one in the sales opportunity will also be listed and linked so the salesperson is armed with that information before entering sales conversations or might choose to make sure a complaint is addressed before continuing with the sale.
Filter your tasks & Focus on what's important
Sales Tasks - CRM Sales Management System
In addition to being able to filter and work through lists of leads and opportunities is the sales task dashboard.
This allows you to see all of the individual tasks that need to be completed and allows you to tag and filter them. For example, you might wish to carry out a block of sales calls to warm contacts but not care what industries they are in or what stage on the pipeline they are in. Tasks can be created within a lead or opportunity or off of the back of a completed call, email or meeting. Collabit allows users to create Task Templates so when they wish to add a task they can just choose a template from the dropdown list and it will add the details for you!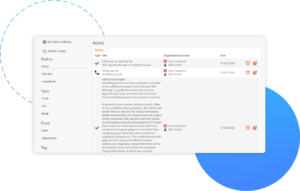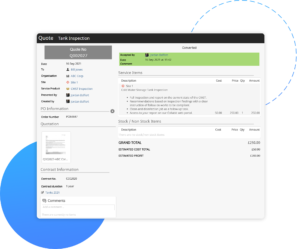 SAVE HOURS BY AUTO GENERATING SALES DOCUMENTS
Quotes & Sales Proposals
Any number of quote templates can be created and used from within an opportunity or from the Quotes dashboard. This allows a user to produce high quality documents within seconds. These quotes can then be viewed, edited and sent via an email template from within Collabit to the prospect/s that are listed against the opportunity.
SET TASKS WITH EASE
Automation to Reduce Admin
Collabit has made sure that hundreds of admin tasks within the system are completed automatically in order to make our client's company more efficient but also to ensure that the data and information in reports are correct (not leaving it down to the user to keep the data smart is the smart thing to do!) Changing pipeline stages and adding the value to deals from quotes are just 2 examples of things that happen automatically.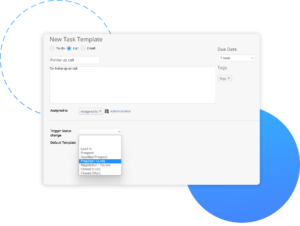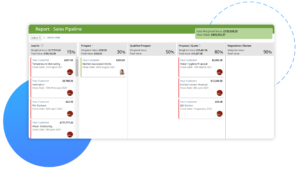 TOTAL VISIBILITY
Sales Reporting & Pipeline Management
A variety of sales reports and dashboards are available within the system:
Sales overview is a dashboard type report that can be viewed by an individual to show their sales forecast for the coming months or by a manager to show a team or the entire sales for the company. This will show the actual sales made in each month as well as the amount that has been forecast. It also shows the win lose ratio as well as allowing a user to see the individual deals left to close in the current month and the deals that have gone stale and therefore need attention or need to be removed from the pipeline;
Sales activity reports Show for an individual or a team how much sales activity they have completed within a date range. This includes number of calls logged, number of emails, number of meetings and number of quotes. Quotes are broken down into draft quotes and sent quotes with the total quote values;
Pipeline Dashboard Shows the different opportunities in the pipeline at different stages of the sales funnel. Each stage is a column listing the deals at that stage with a total value and weighted value above it. This can also be shown for individuals or teams. Other reports include sales activity alongside operations and invoicing data.
Looking for a complete, innovative solution for all of your sales needs? Then Collabit is the product for you! From prospecting to closing, Collabit can help you create a better future for your business. Give it a try today!
Are you ready to improve your company's sales process with Collabit Sales CRM?