Top 5 CMMS Features That Resolve Maintenance Problems
At work, praying nothing breaks down or hoping a spare part will be among the stored items pile is not a recipe for success. Running a business is all about tackling problems head-on.
Some issues are unavoidable but most are the results of improper maintenance of equipment.
Fine-tuning every kit in a manufacturing facility or in the service industry can get expedited with CMMS software. A CMMS solution mainly alleviates the burden on technicians and maintenance managers and has been around for a few decades.
Numerous providers offer the computerized maintenance management system concept in proprietary software packaging. At the very core, every CMMS aims to resolve several key maintenance issues. To accomplish this, it boasts several features we will examine in depth.
Work Order Management
Who gets to do what and when are the key questions in a business's maintenance department – and it is one area where CMMS software shines. The software prepares work orders, orientates them via predetermined timetables and promptly reacts to changes made by the company staff.
The system knows which job to assign to a particular technician and distributes the proper documentation at the same time.
It also archives completed tasks and registers the labour input and the parts used in the maintenance assignment. This all ensures timely work delivery. Moreover, the CMMS work order is flexible and allows for fast adjustments in case of asset failure by prioritising work orders and making sure productivity is maintained.
Outdated fashion spreadsheets are no match for a computerized system integrated with real-time sensors and constant user input. Speed and efficiency go hand in hand and the work order feature of a CMMS software functions preventively and increases the equipment life cycle.
The work order feature makes it possible to:
– Track assignments;
– Prevent failure codes;
– Establish asset hierarchy;
– Review manuals and documents;
– Manage logistical information;
– Take notes.
Function of CMMS – Maintenance Management
Streamlining maintenance procedures is the main reason to integrate a CMMS solution.
Most software systems perform this in a few ways with the main focus on generating a maintenance calendar and preventive maintenance.
With a maintenance calendar, machinery parts that have a specific life span are known in advance, and companies make provisions to replace the part when the due date approaches.
The CMMS keeps track of the status of each part and makes sure replacements are available ahead of time, preventing a breakdown. A built-in calendar also sends notifications and issues work orders.
The other feature is its capability to initiate preventive maintenance. As an integrated system that monitors several areas at once, the CMMS can identify potential issues that usually would have gone under the technicians' radar. Its database makes it possible to go further, detect problems, and implement preventive maintenance.
There is a symbiotic relationship between maintenance calendar and preventive maintenance, relying on each other to fill in the gaps.
The benefits of using both ensure:
– Overspending control;
– Workplace safety improvement;
– Production downtime reduction;
– Maintenance history insights.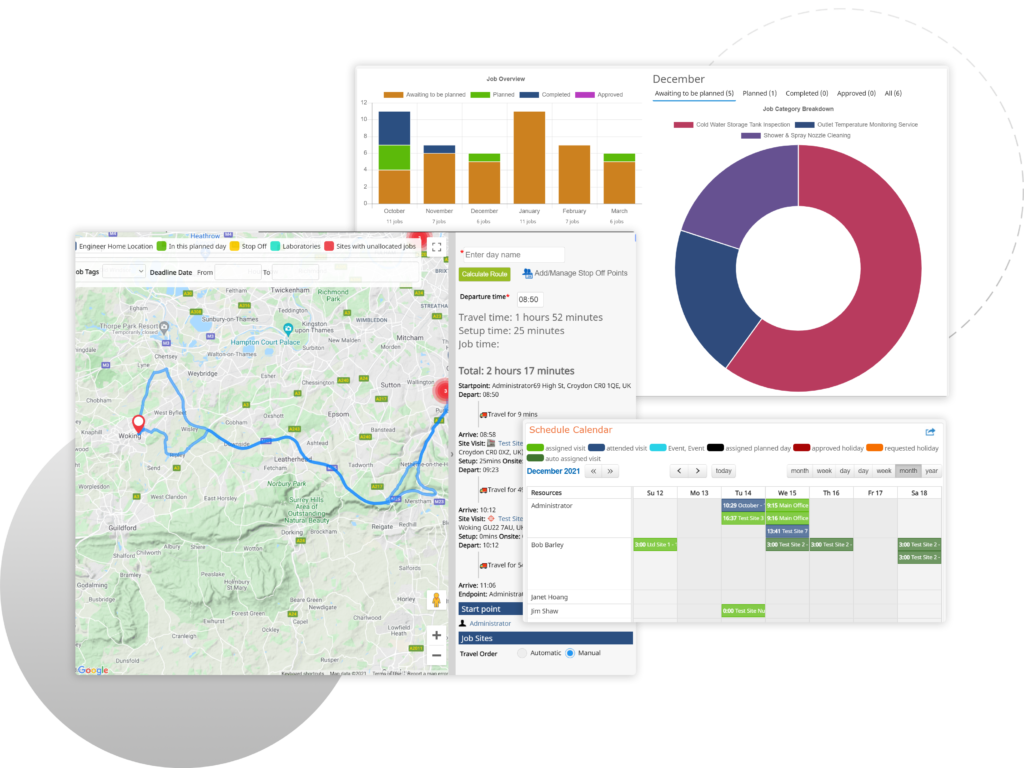 CMMS Features and Functionality – Inventory Management
Maintenance depends on replacing worn-out parts. Waiting for the last moment to purchase a spare part can cause headaches, especially with time delays – if the distributor has to order the specific model.
With a reliable CMMS, however, comprehensive inventory is not a problem. The software tracks scheduled maintenance operations and signals the staff to order necessary parts ahead of time. Inventory management is one of the most useful CMMS features and reduces the need for manual auditing of available resources.
Some of the fortes of effective inventory management include:
– Forecasts spare parts requirement;
– Tracks stock across multiple facilities;
– Generates and archives digital purchase orders;
– Sends SMS and email notifications;
– Regulates the budget.
Reports and Statistics
Statistics and metrics are important indicators that reveal the viability of an organization.
Yet, gathering random figures in an Excel sheet is of little help. The information has to get structured for management to make sense of the data.
Reports are standard practice in every company, although compiling all the data can be a tedious process.
The advantage of a CMMS is that it has the power to centralize data assimilation and improve analytics. With this, it provides an overview of the productivity and maintenance expenses.
At a click of a button, maintenance managers can access reports modules that discover an asset's downtime and repair costs and upcoming maintenance schedules. CMMS is the perfect tool for identifying the root of a problem by sorting through the statistics in seconds.
The system can be adapted to generate different types of reports, and common formats include:
– Custom or template reports;
– Real-time dashboard reports;
– Financial reports;
– Automatic scheduled reports.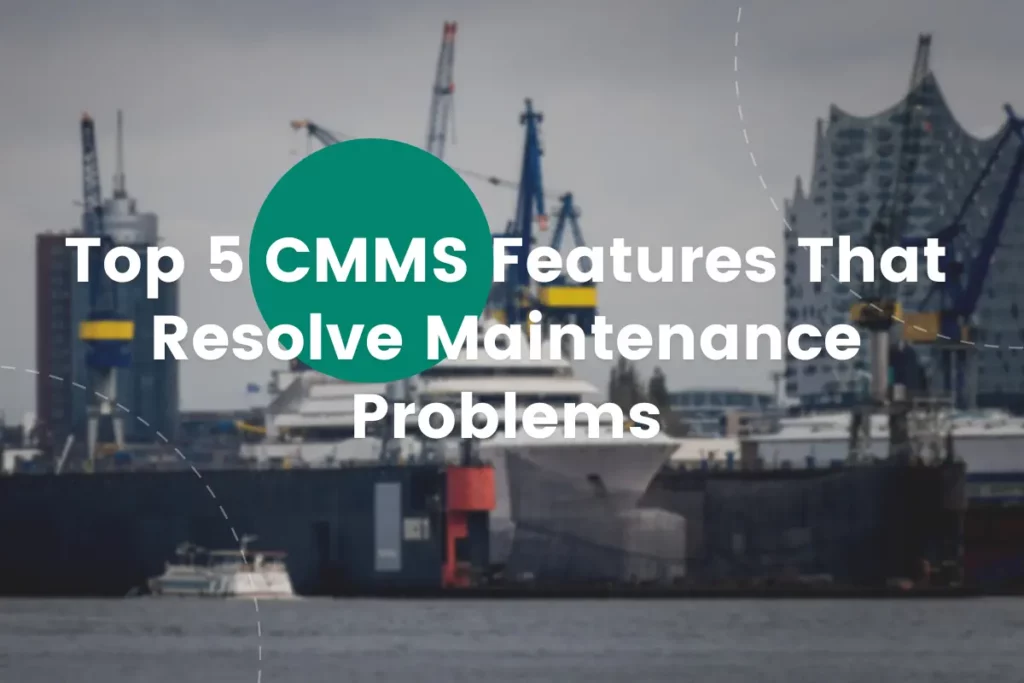 Mobile-Friendly CMMS – Maintenance Management Software Features
Mobile devices are indispensable in every sphere of life, and CMMS solutions depend heavily on mobile compatibility. With a mobile device in every pocket, it's possible to communicate in real-time. Managers can stay on top of all issues, regardless of the location, and without the need to follow the paper trail.
Managers and technicians can also inspect inventory and see upcoming tasks with a simple scroll. Plus, the exchange of information is instantaneous. Users can continuously update the system, eliminate lag time, and shorten response time.
A mobile CMMS app is a useful tool that offers:
– Scanning codes;
– Timely notifications;
– Work orders access;
– Taking photos and sharing them with a work order.
– Offline access to the CMMS.
A Suitable CMMS Provider for Your Needs: The Verdict
The best CMMS solutions solve the core problems of inventory, maintenance schedules, work orders, accurate reporting and mobile interface. Also, to-do lists are always daunting tasks, especially with a lot of moving parts at hand.
Plus, informed dashboards that flash crucial data increase production and contribute to more sound financial decisions. CMMS is a tool, and to get the most of its potential, companies must get their team invested and trained to use the features that solve problems in the long run.
Unsurprisingly, companies seek help in CMMS as a crucial tool that streamlines maintenance procedures. There are numerous providers to choose from, but if you have global reputability and quality in mind, Collabit makes a leading UK provider, offering tailored CMMS solutions, an easy-to-grasp system, and the option to build your own software within seconds!