In the fast-paced, service-oriented world we live in, the importance of an efficient and reliable service scheduling system cannot be overstated. Service scheduling, the backbone of any service-based business, has seen a significant revolution with the advent of technology and the rise of field service management (FSM) software. In the heart of this revolution stands Collabit, a ground-breaking service scheduling software designed to streamline work orders and assign the right job to the right technician at the right time.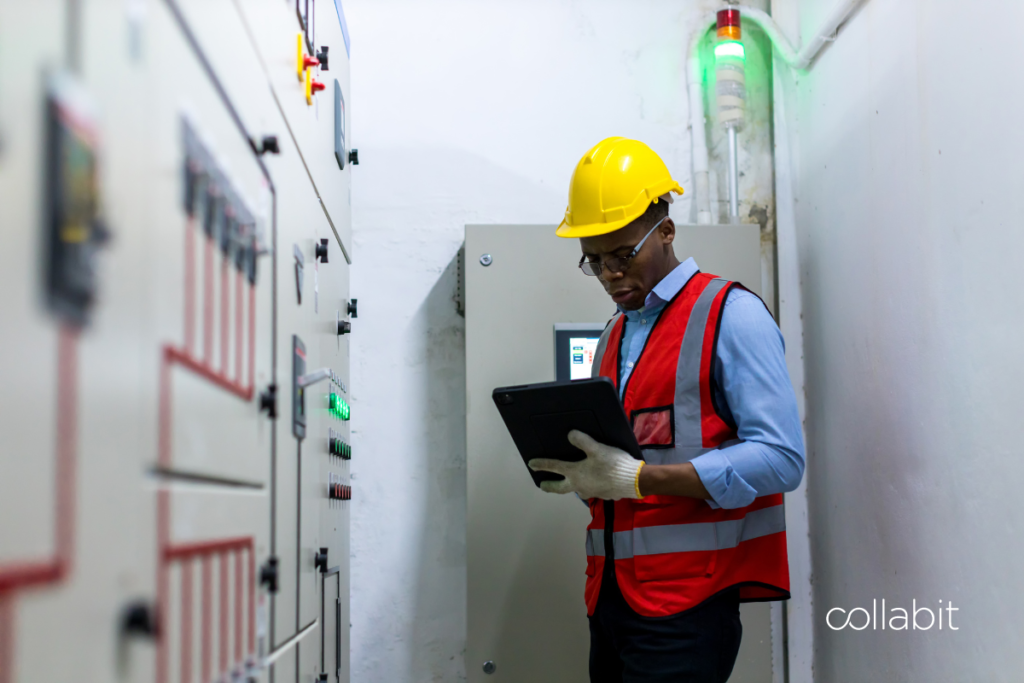 Field service management software, also known as dispatch software, is an essential tool that bolsters service teams with the ability to coordinate service delivery requests efficiently. By introducing time-tracking and job scheduling functionalities, FSM software greatly enhances the process of assigning field technicians to work orders.
The Necessity of Field Service Management Software
A field service management software allows service businesses to operate seamlessly. It's common for service teams to be swamped with last-minute requests, and they require an efficient management tool to schedule all incoming service requests. Without an effective dispatch software, service requests might get tangled in conversations between technicians, agents, and customers, causing delayed resolutions and unsatisfactory customer experiences.
Collabit, a cutting-edge FSM software, ensures your service delivery adheres to SLA policies consistently. This software automates key processes of field service management, including scheduling, work order management, dispatching, invoicing, and other field service processes. With Collabit, dispatch managers can schedule requests based on the customer's convenience and the availability of field technicians. This flexibility allows managers to optimise their team's schedule, inform field technicians promptly, and ensure seamless customer experiences.
How Collabit Transforms Service Scheduling (Service Scheduling Software)
Collabit's service scheduling software comes equipped with revolutionary technology and an intuitive user interface, making managing and scheduling service requests straightforward and efficient. With its state-of-the-art features, Collabit service scheduling software aims to empower businesses with the necessary tools to excel in today's fast-paced service industry.

Sales and Quoting:
The Sales and Quoting feature of Collabit Software's FSM software allows you to create and send professional quotes to your customers quickly and easily.

Collabit comes with a powerful sales CRM built into it that allows you to capture leads and track marketing campaigns, manage and report on your sales pipeline, record calls, emails and meetings and generate and send quotes.
Automated Notifications:
Any changes to the schedule or new tasks are instantly communicated to your field technicians through automated notifications.
Analytics & Reporting:
Collabit provides insightful data on your service operations. You can analyse performance, efficiency, customer satisfaction and more to continually refine your service delivery.
Plan & Schedule Jobs:
Use Collabit to plan all the jobs that are due either from schedules created from closed sales opportunities or from remedial works that have been discovered within jobs.
Mobile App for completing onsite works
Powerful mobile app that allows field workers to complete their work quickly and effectively. Jobs assigned to the operative on the Collabit planners will automatically be available for them to complete on the mobile phone or tablet.
Integration:
Collabit's field service management software seamlessly integrates with various other software, providing a comprehensive solution for managing your business.
Collabit not only helps businesses keep up with their service requests but also elevates the customer experience by ensuring prompt and effective service. By managing your service scheduling efficiently, Collabit ensures that your business can focus more on delivering exceptional service and less on managing schedules.
The Future of Service Scheduling with Collabit
Investing in an effective service scheduling software like Collabit Service Scheduling Software is a smart move towards enhanced productivity, improved customer satisfaction, and streamlined service operations.
As we move further into the 21st century, field service management will continue to evolve, and businesses need to stay ahead of the curve. By choosing Collabit, your business will have the tool it needs to manage, grow, and succeed in the ever-changing landscape of service delivery.

Embrace the future of service scheduling with Collabit. Take your service scheduling to the next level and lead the way in delivering top-notch customer service experiences.
The Bottom Line
In the evolving world of service management, businesses must stay ahead of the curve. Service scheduling software like Collabit allows businesses to streamline operations, improve customer satisfaction, and drive growth. By automating and managing the complexities of service scheduling, Collabit frees your business to focus on what truly matters – providing exceptional service.
Choosing Collabit is not just about selecting a service scheduling software; it's about choosing a partner that understands your business's unique needs and challenges. With Collabit, you're not just adopting technology; you're embracing a new era of service delivery. Don't just keep up with the changes; lead the revolution with Collabit.
Looking Beyond: The Expansive Potential of Collabit
As a service-oriented business begins to expand and grow, the demands of managing increasing service requests, maintaining high customer satisfaction, and ensuring efficient use of resources become more challenging. Here's where Collabit's expansive potential can truly shine:
Scalability: Future-proof Your Business
Whether your business is a start-up or a large enterprise, Collabit is designed to scale and adapt to your growing needs. As your customer base expands, so does the complexity of scheduling and dispatching. Collabit's robust architecture can handle the increasing load, allowing your business to grow unhindered.
Mobility: Empowering Your Field Technicians
In an era defined by digital mobility, your field service technicians should have the ability to access work orders, customer information, and service history at their fingertips. Collabit's mobile capabilities empower your technicians with the information they need when they need it. This feature not only boosts productivity but also enhances the customer experience by reducing waiting times and improving service quality.
Customer Centricity: Prioritising Customer Satisfaction
Collabit is not only about optimising your operations but also about enhancing your customers' experience. By ensuring timely service, reducing mix-ups, and enabling smoother communication, Collabit significantly improves your service quality. Happy customers are likely to be repeat customers, and with Collabit, customer satisfaction becomes a key performance metric, not an afterthought.
Staying Ahead with Collabit: An Investment for the Future
Investing in Collabit is more than just an investment in software; it's an investment in the future of your business. By providing a holistic approach to service management, Collabit helps you streamline your operations, deliver exceptional customer service, and drive sustainable growth.
As we delve deeper into the digital age, the demands of the service industry will only become more complex. Adapting to these changes will require a forward-thinking approach and a willingness to embrace new technologies. Collabit offers you the opportunity to lead the way in this evolving landscape. By choosing Collabit, you're choosing a partner that understands the unique challenges of your business and provides innovative solutions to overcome them.
Experience the revolution of service scheduling with Collabit. Prepare your business for the future, and lead the way in the delivery of exceptional customer service experiences. Choose Collabit today and experience the difference that innovative and effective service scheduling software can make.
Transform Your Service Delivery with Collabit
Field service management is an integral part of any service-oriented business. As the landscape becomes more competitive, businesses must stay ahead by adopting technologies that streamline operations, boost efficiency, and enhance customer service. Collabit's field service management software does all this and more, providing businesses with a comprehensive solution for service scheduling.
In an industry where time is of the essence, Collabit ensures that your business is always a step ahead. By automating complex scheduling tasks, providing real-time visibility, and enabling data-driven decision-making, Collabit helps you deliver top-notch service experiences that keep customers coming back.

As we venture further into a future defined by digital innovation, embracing a pioneering tool like Collabit is not just a smart move; it's a strategic imperative. Experience the Collabit revolution, and discover how innovative service scheduling can transform your business.
With Collabit, you're not just keeping up with the industry; you're shaping its future. Get on board with Collabit today, and let us take your service delivery to the next level.
FAQ
Service technician scheduling software
Collabit has a powerful service technician scheduling feature. With our software, you can easily schedule your technicians for jobs, maximising their time and minimising downtime.
Scheduling software for service technicians
Collabit's service technician scheduling system is designed to make scheduling and dispatching a seamless and efficient.
Best field service scheduling software
Determining the "best" field service scheduling software often depends on the specific needs of your business. Collabit offers robust scheduling features, enabling businesses to manage and coordinate their field service operations efficiently. Its intuitive design and advanced features make it a top choice for many businesses.