CMMS vs EAM: What's the Difference & How to Choose Right
Running a business takes more than just offering products and services and making profits.
Before you do all these things, you also need to take care of your inventory and working equipment to see that it lasts longer. This effort will save you time and money for repairs and replacements.
CMMS, EAM definition
What is the difference between a CMMS and an EAM?
Is CMMS part of EAM?
What is the difference between EAM and ERP?
What is EAM maintenance?
All-size businesses should know that maintenance is a key factor in running a successful and profitable venture. And so, there are many maintenance management tools to help businesses ensure an uninterrupted workflow.
For maintenance management, two basic tool solutions exist – a Computerized Maintenance Management System (CMMS) or Enterprise Asset Management (EAM). 
In essence, both tools help standardise and enhance business workflow efficiently. Read to learn the main distinctions between these two maintenance systems and see which fits your business needs better.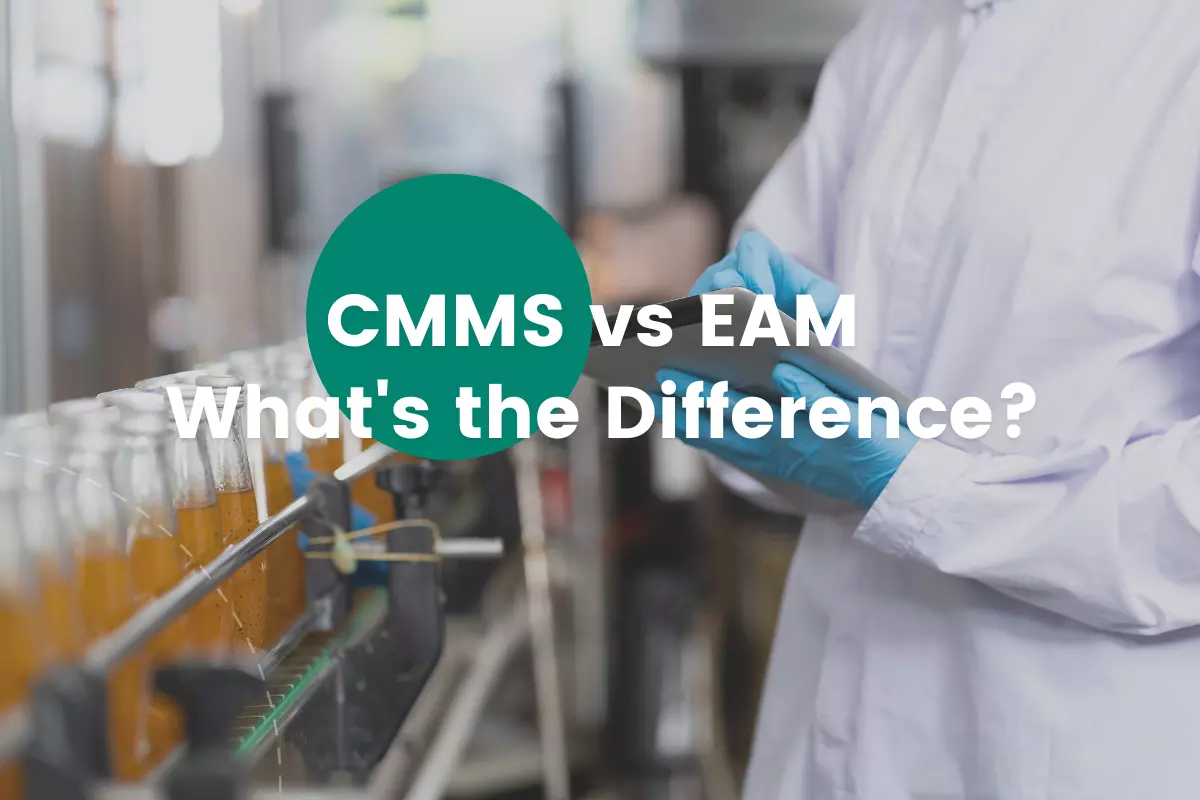 CMMS vs. EAM
CMMS focuses on delivering optimized asset performance whereas EAM helps automate business maintenance management strategies to prevent mishaps in the workplace. Both CMMS and EAM serve the same ultimate goal but differ in the manner of execution and their main focus in managing certain issues. 

What Does a CMMS Do?

Basically, CMMS is a tool companies use to help them automate the maintenance management process of physical assets. Using a CMMS tool supports businesses in better managing their machinery, gadgets, and all aspects of maintaining the business's properties. Computerised,
a CMMS tool offers a wide range of management options for different assets.
One of the industries that use CMMS tools the most is the manufacturing industry. And, as of 2022, there have been 718,796 manufacturing businesses registered in the US alone, a staggering increase of 3.8% compared to the previous year. 
Out of the many perks of using CMMS tools is the option to manage orders. Before the industry was able to reap the benefits of computerized maintenance management tools, companies used punch cards and different paperwork to complete or issue an order. Other than maintaining the workflow, a well-rounded CMMS tool also delivers the benefits we list below. 
Enhances Inventory Management Visibility

A CMMS tool will focus on keeping track of workflow-relevant details like item descriptions, part numbers, names of suppliers, and the quantity of available spare parts. All of it is of great help for businesses to improve their inventory management procedures.
CMMS tools can also notify managers in cases of parts of the inventory holding less than what's required. Such an option is beyond useful for the ordering process automation and ensures that stock levels are kept at the predefined threshold.  Furthermore, having first-hand insight into the actual state of the inventory helps companies curb downtime.
Upkeep Registers of Assets 

Creating and maintaining asset registers is another perk of using CMMS tools. A computerised maintenance management system will encompass both advanced and basic asset details into a single asset register. That way, managers and shift controllers can have all-around insight into asset details and can link an employee to a particular asset. 
For instance, a forklift driver can be linked to the asset's details and get instant info on the machine. In addition, asset registers will also hold information on the service management schedules, the work plans, as well as the details service engineers need. Maintenance history is also recorded, which makes it easier for engineers and managers to see how often an asset has been repaired and predict if that asset is better off being replaced.
Facilitate Work Order Management

Using a CMMS tool allows businesses to encompass both internal and external work orders for a simpler working process. Regardless of whether work orders are aimed at attaining services or materials, a CMMS tool will process both and have data available for everyone using the tool. 
Engineers or managers can use the CMMS tool to inspect existing work orders and use the data to foresee any orders in the future. By offering detailed workflow data, CMMS tools allow managers to handle and report all types of work orders, whilst also tracking orders in real-time. 
Conduct Preventive and Proactive Maintenance

One of the most vital aspects of both CMMS and EAM tools is devising maintenance plans, which can benefit businesses by reducing maintenance costs by 12 to 18% by simply controlling upkeep cycles.
By employing reactive, predictive, or preventive maintenance cycles, businesses can see reduce repair time by a whopping 91%.
What Does an EAM System Do?

An enterprise asset management software (EAM) employs a more comprehensive approach to managing the asset lifecycle. EAM software includes procurement, planning, operations, and asset disposal plans. 
EAM software is mostly used by businesses and industries that often operate with their assets. The software is used to measure and control the performance of an asset. By using an EAM system, businesses can stay ahead of maintenance and repair issues, thus preventing unforeseen downtime and reducing maintenance costs. 
Construct Asset Workflows

Businesses that use an EAM system can categorize different types of asset workflow.
For instance, managers and engineers can work with production workflows, and others with maintenance workflows. 
Assets mean different things to different departments within a company, and an EAM system will configure distinct workflows to work with particular types of assets to track warranties, monitor inspections, or follow high-priority work orders, for instance.
Connect Asset Uptime to Cost-Effectiveness

Due to the 360-degree view feature, EAM software offers a wholesome view of an asset.
It makes it is then easy for the system user to inspect an asset from every angle. Moreover,
the feature links an asset's uptime to profitability, thus offering clear insight into the asset's cost-effectiveness. Given the data, managers can decide whether a particular asset yields profit or if the business is better off without it.
Analyze and Plan the Lifecycle of an Asset

One of EAM's most useful features is the analysis and planning of an asset's lifecycle. Managers can get information concerning every single stage of the lifecycle of a particular asset. This helps better determine the financial benefits of the said item. Procurement logs, compliance details, maintenance management records, as well as asset disposal details, are some of the most useful subfeatures of EAM software.
CMMS and EAM Differences: An Overview

EAM and CMMS are two maintenance management solutions that deal with maintenance issues and offer suitable solutions. Here's a detailed overview of the main similarities and differences between them.
CMMS vs EAM: What's the Difference
CMMS vs EAM: What's the Difference
CMMS vs EAM: What's the Difference
Specification
EAM
CMMS
Basic Concept

Helps maintain and manage the whole asset lifecycle 

Helps with asset optimization

Key Features

Planning of funds

Procurement

Asset installation

Workflow templates

Production load

Asset management

Asset maintenance

Compliance management

Risk-related management

Asset disposal

Reactive maintenance

Proactive maintenance

Preventive maintenance 

Workflow management 

Usability in

Finance sectors

Maintenance departments

Operations

Production industry

Compliance departments

Maintenance teams

Operations departments

Application

Asset-reliable industries aiming at managing asset lifecycles

Asset-intensive industries looking to enhance asset-uptime
CMMS vs. EAM 

Both tools are intended for maintenance management so there is no wiser option but a better-fitting one. The software you choose should add value to your company and either enhance business asset durability or ensure smooth asset operation within a business.
Use CMMS solutions to enhance inventory management and maintain asset registries for an uninterrupted workflow. 
Use EAM software to compile asset workflows and analyse and plan an asset's lifecycle. 
Whichever maintenance management system you choose, rest assured your business will land in the right solution's hands. 

CMMS vs EAM: What's the Difference
CMMS vs EAM: What's the Difference
CMMS vs EAM: What's the Difference